AHD's annual bike ride started in 2012 when Mike Heisler, former Chair of AHD's Advisory Board, biked 630 miles in 6 days to raise $63,000. Against all odds, he completed his ride from Sioux Falls to South Bend when he carried his bike into Fr. Hesburgh's office at Notre Dame. Now ten years later, it's time to celebrate the success of the Andean Health Cycling Team (AHCT) with three epic ride opportunities described below. This year's goal is $500,000 with funds designated for expanding AHD's Family Practice Residency Program, conducting research at the Andean Health Institute, and supporting other initiatives in support of AHD's core mission.
#1. 10th Anniversary Group Ride in Northern New Mexico: September 12-17
Heading north to the historic town of Taos, we pass through four different Native American Pueblos and ride along a segment of the famed High Road to Taos. Ride, relax, and experience the enchanting land of New Mexico on this cycling vacation of a lifetime.
4-Day Ride (double occupancy): $2,099
6-Day Ride (double occupancy): $3,799  (The ultimate price of the 6-day trip may end up being less if enough riders register.)
Non-Riders: Trek Travel is still charging the same price even if you do not ride. Sorry!
The trip is organized by Trek Travel. The prices above do not include airfare or the hotel the night of arrival, Sep. 11. The deadline to sign up is July 12, 2021, but space is limited, so please do so as soon as possible.
To secure your spot, please sign up through both links below (through Andean Health and also through Trek Travel):
The Trek Travel / Andean Health webpage also describes info about flying in and out of NM, what to bring on the trip, and Covid-19 precautions. AHD is requiring that all travelers receive a Covid-19 vaccine by August 28. A $750 deposit is due with registration and is reimbursable up to 90 days before the trip, which is June 14. These funds are to pay for the trip and go directly to Trek Travel. Andean Health does not receive any of these funds. AHD will reserve a block of rooms at a hotel in Santa Fe the first night, so we will let you know soon how to book that if you'd like to be with the group that night. Please send any questions to Laura at laura.brown@andeanhealth.org.
---
#2. Community Team or Individual Rides: Any time between August 28 and September 19
You choose the mileage, elevation, teammates, and location. Share your photos and stories from your ride with the Andean Health community. We had a ride like this last year, and it was a huge success and a ton of fun. Thanks to all of you who participated!
Register by June 30 (new date) to receive the 2021 custom Andean Health jersey! Once you're signed up, Laura will email you additional information as the ride gets closer. Please send any questions to Laura at laura.brown@andeanhealth.org.
Sign Up for the Individual or Community Ride
---
#3. Epic 644 Mile Pre-Ride
As part of the 10th year celebration, a small group will leave from Bozeman, MT on August 29 arriving in Santa Fe on September 11 after covering 644 spectacular miles and climbing over 40,000 feet–all in time to join the full team for the Northern New Mexico ride. Two slots for the Bozeman ride are still available. Contact Mike Heisler (michael.heisler49@gmail.com) if interested.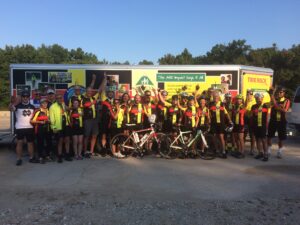 So join in the camaraderie, cajoling, and athleticism–all at your own pace. It's all to raise funds and awareness for high quality health care in Ecuador.
Donate to the 2021 Ride Campaign