Coronavirus Update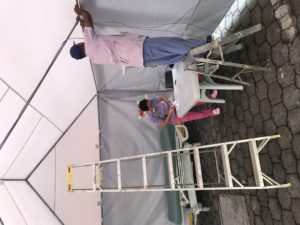 Setting up a tent at Hesburgh Hospital to triage patients.
March 12, 2020
Dear AHD Family,
Coronavirus is here in Ecuador. Given the community transmission that we've seen in other countries, there is a high probability that it will spread fast in a low-resource setting like Ecuador. Hygiene in Ecuador is not nearly at the level of the United States.
We are preparing ourselves to collaborate with the federal government and social security system to help manage patients in our catchment areas. If this does become a major public health problem, the public system will collapse quickly. We have set up tents outside our hospitals to triage patients as to keep them separated from the other patients in the lobbies and waiting rooms. We have protocols in place for our medical professionals.
Although global health is much more than epidemics, this is a situation where we need to step up and do our part. I know you all would agree. The crisis is a reminder of how important it is to develop health systems in low-income countries like Ecuador so they can be prepared for such emergencies.
We will be posting updates to this page periodically.
Thank you for supporting our work.
Gratefully,
David